RO CSVI supports export of Joomla core custom fields. In this document we explain about how to export Advanced Custom Fields using RO CSVI.
There are around 28 custom fields which are supported by Advanced custom fields. Each of these custom fields are explained in this document.
Things to remember before starting Joomla Advanced Custom Fields export for an article.
1. Export of Joomla custom fields for an article is done using a Joomla Content export template.
2. Once you have the custom fields created, Update your available fields.
3. You should have enabled the Joomla! Custom Fields extension for RO CSVI plugin from Extensions -> Plugins.
4. All settings for a custom field should be done in the System - Advanced Custom Fields plugin from Extensions -> Plugins.

Here is the list of Advanced custom fields
ACF - Bing map
ACF - Country
ACF - Currency
ACF - Daily motion
ACF - Download button
ACF - Email
ACF - Facebook
ACF - Facebook video
ACF - File Upload
ACF - Google map
ACF - Gravatar
ACF - HTML5 Audio
ACF - HTML5 Video
ACF - Iframe
ACF - Module loader
ACF - OpenStreetMap
ACF - PHP
ACF - PayPal
ACF - Progress Bar
ACF - QR Code
ACF - SoundCloud
ACF - Telephone
ACF - Timepicker
ACF - True/False
ACF - Twitter
ACF - URL
ACF - Vimeo
ACF- WhatsApp Click to Chat
ACF - Youtube
In this document we explain on how to export 3 Advanced custom fields Url, Soundcloud and Paypal. The procedure is the same for other custom fields.
1. Say if you have an article which has Url, Soundcloud and Paypal set on Fields tab and you need to export these values along with article in RO CSVI.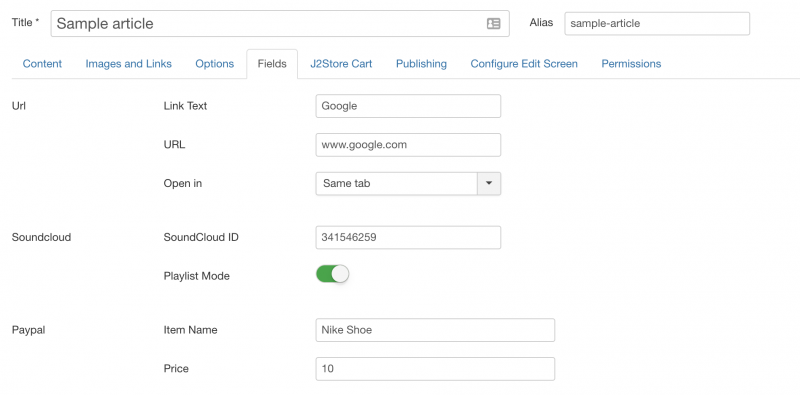 2. Create Joomla Content export template by setting component to Joomla content, Action to Export and Operation to Content.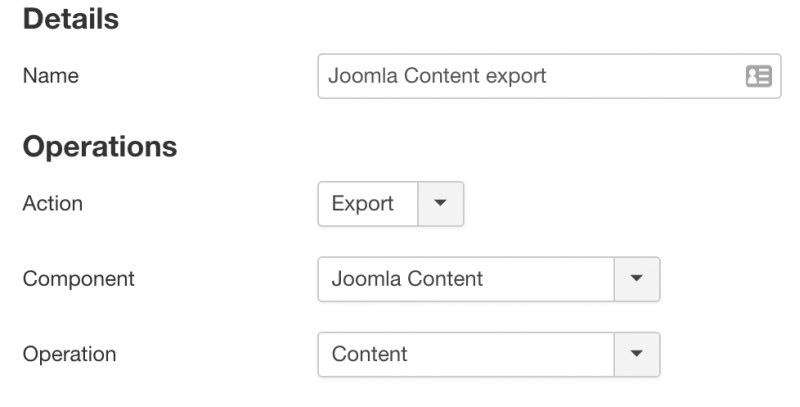 3. On RO CSVI template fields page, add export fields alias, catid, url, soundcloud and paypal.

4. Run the export from RO CSVI Export page.
5. The export file would look like