This document explains on how to use drag and drop feature when creating RO CSVI template.
This tutorial will explain on how to use the drag and drop feature available in the template wizard by creating an example VirtueMart Product import template.
1. First step is to go to Templates page, click on New.
2. Select import Operation and Component as VirtueMart.

3. Continue will take you to Select a Source page. Select where your import file is coming from and click on Select Options to move to Options page.

4. On the options page we can set some basic options for reading the import file. Select Use file for configuration as No. Save the settings to move on to next page where you can see option to either enter the column headers or select a file or drag and drop import file to read the column headers. These fields will be then used for import.

5. In Select fields page, there are two ways of setting column headers. You can manually enter the column headers separated by comma or drag and drop the file in the drag and drop file area and then click on Read fields. RO CSVI will then display option to map the fields with given column headers.

6. Once the column headers are set either manually or from file. Click on Read fields button. RO CSVI will then display the option of mapping the fields to actual RO CSVI available fields for the template.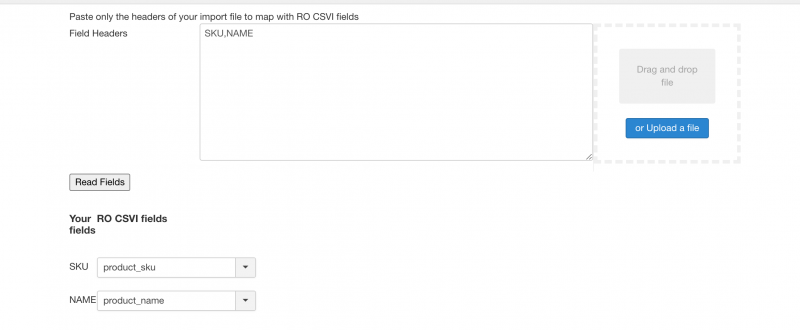 7. Now the fields are mapped. Click on Finalize button the finish the import template.

8. You can then see the VirtueMart Product import template ready with template fields added from RO CSVI Template fields page.