CSV Improved 7.6.0 - a small update
Only 3 weeks ago we release CSV Improved 7.5.0 and now there is already CSV Improved 7.6.0. While this could just be a bugfix release we did not want to postpone some of the new features we built for you. The new features in this release are small but absolutely worth mentioning.
Example templates

In the past few releases we have been adding more and more example templates to assist you to get started. One problem with the example templates was that it always installed all templates. So you either get a very large list of templates you never use and need to clean up or no example templates if you don't want to keep cleaning them. To help you out we now added the option that you can choose for which extension you want to install the example templates. Ensuring that you only get the example templates you want.
By default the debugging option is turned off because once you decide to take your template live you don't want it to fill up your hosting with all the debug logs. However when testing it can be useful to have the debug option enabled. So we now offer the option to enable debugging on the example templates before installing them. Just a minor change to make life easier.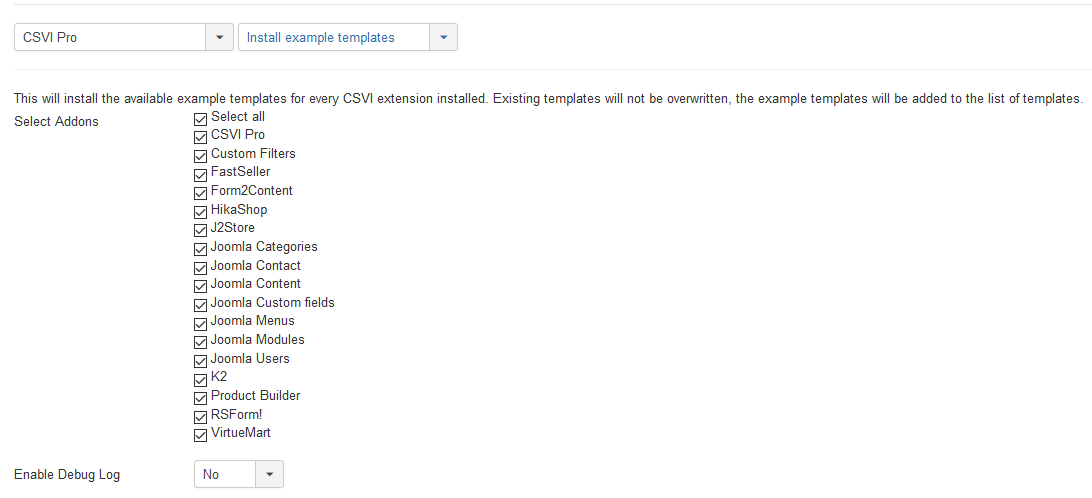 Joomla! Content Export
The last feature we added is for the Joomla! Content Export to include all subcategories during export. So you no longer have to select all the categories for export, you can just select the parent and enable the option to also export the child categories and you are good to go.
Database issues
We touched upon this topic last time and we have made further improvements to this to ensure older CSV Improved installations can be updated as well.
Changes
In addition to the new features, we have fixed a number of issues as well. Check the full list of changes in this release:
Fixed error on updating available fields
Fixed J2Store tasks not setup on installation
Lowered Form2Content available fields threshold
Fixed SFTP failing on cron job
Fixed missing default values for database fields
Added option to select for which component the example templates should be installed
Added option to enable debug logging on installation of example templates
Added option to include subcategories in Joomla! Content export
Fixed the back button throwing a fit after import when running in a subfolder
Fixed database index issues on installation
Make the Operation required during new template creation
Fixed ICEcat incorrect column count
Fixed AwoCoupon export not using new methodology
Fixed AwoCoupon import not using new methodology
Improved database integrity checks
This release is available for free to everyone with an active subscription from the Download section. If you do not have a subscription yet, you can subscribe here.